Sacred Waters Kirtan Members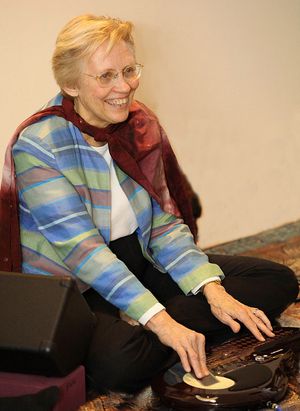 JOYCE HUG
,
Suzuki QChord

"Through the power of chanting the Divine names, one can reach the highest realization."-- Sri Ramakrishna
 
In her younger days, Joyce was a unionized card carrying professional musician.  But she traded that in to begin a spiritual journey.  Her deep study of Hinduism led her to a mountain in India, an ashram and Vedanta. Joyce founded Sacred Waters Spiritual Center in Mishawaka, Indiana in 2000 and began Sacred Waters Kirtan in 2005. For the past 17 years, she has led groups on holy pilgrimages to India and recently helped to edit into English the Bengali version of a biography about the life of Holy Mother Sarada Devi. Sacred Waters' mission is to honor all spiritual paths that lead to wisdom, devotion and service. Joyce is known for her embodiment of all of these, which extend to all sentient beings. We refer to Lakshmi, the mangy, once homeless feral cat, who now resides comfortably in Joyce's living room where she does ballet. 
Visit: http://sacredwaterscenter.org/
---
ALLEN DESOMER, songwriter, guitar and sitar, lead vocals

In addition to writing the original music of Sacred Waters Kirtan, Allen has composed music for film and television. His fingerstyle acoustic guitar, coupled with his rare specialty of Indian sitar, lend a unique sound to Sacred Waters Kirtan. He began his spiritual journey 40 years ago as a student at Maharishi International University followed by training to become a teacher of Transcendental Meditation.  After many years of profound silence, Allen emerged to give a voice to that immortal spirit that lives deep within all of us.  Teaching others to meditate was Allen's sublime mission for many years and that mission continues today in the form of kirtan, which he defines as "meditating out loud". Though the mild-mannered and gentle Allen loves the devotional singing of Ragani and Snatam Kaur, he has been known on occasion to channel ZZ Top's musical style for his church's worship services.
Visit: soundcloud.com/allen-desomer
 
---

MARIE FERRARO, lead and response vocals, percussion


Marie grew up singing in a musical family and was still singing along with her mother, Goldie, who was wheelchair bound, up until her death. Marie performed with Rhythmworks drumming and vocal ensemble for many years before joining Sacred Waters Kirtan. Marie is the first one in a group to jump up and dance and her playful spirit gives others permission to take up wings and soar. She helps to co-ordinate ecstatic dance events, which like kirtan, combine her love for sound healing, drumming and dancing: her spiritual trilogy. Guests love the generosity of Marie's gift of hospitality and are awed by the giant tree of life she painted on her living room wall which casts forth colors of happy spinning moons, suns, and pirouetting stars.
---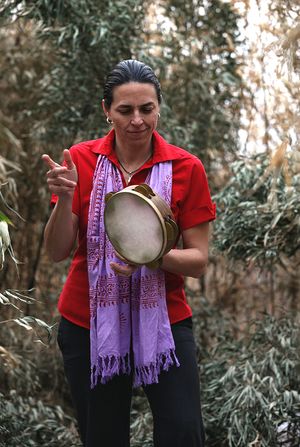 CAROLYN KOEBEL, percussion, vocals

Carolyn has been exploring rhythm and vibration for the past thirty years. Her early training was rooted in classical Western music, but for the past 20 years she has slowly traversed the globe in search of indigenous music and traditional rhythmic materials from such places as Latin & South America, West Africa, Japan and the Middle East. Carolyn has toured nationally and internationally with many artists and ensembles and has a long discography of recording collaborations. She holds college degrees of distinction in music therapy and percussion and finds her deepest spiritual resonance in the Sufi tradition. In addition to working as a hospice music therapist, teacher, and performer, Carolyn hosts community drum events and gong meditations for yoga and spiritual centers. Carolyn loves (and makes!) sock monkeys and is affectionately known in our group as our "Little Hanuman" because of her agility, raw energy, and ability to sing while engaging all four limbs in different polyphonic rhythms!
Visit: www.carolynkoebel.com


 
---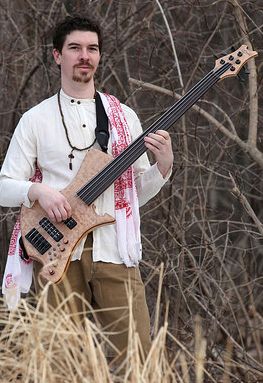 JOHN DEMOSS, Bass

From bluegrass to blues, jazz to progressive rock, John likes discovering new instruments and sounds.  A multi-instrumentalist who has hosted open mic sessions and played with family and various bands, John's longing for a like-minded spiritual community led him to Sacred Waters where his musical passion found a home with kirtan. John has studied with many spiritual teachers and sound healers over the years and says for him kirtan is "a pure entrance to one's body /mind /soul connection. There's no better joy than being immersed in sharing such a devotional gift with one's self and others." John is committed to sustainability and has studied herbalism and nutrition: one of his best nutrition tricks is to get the band to jump through hoops for his Indian Korma. This Renaissance man is also a painter and plays and teaches the didjeridoo.  He can even do that circular breathing thing! At a recent Halloween night kirtan, John painted himself deep sea blue and played his bass as Lord Krishna.
 
---
---